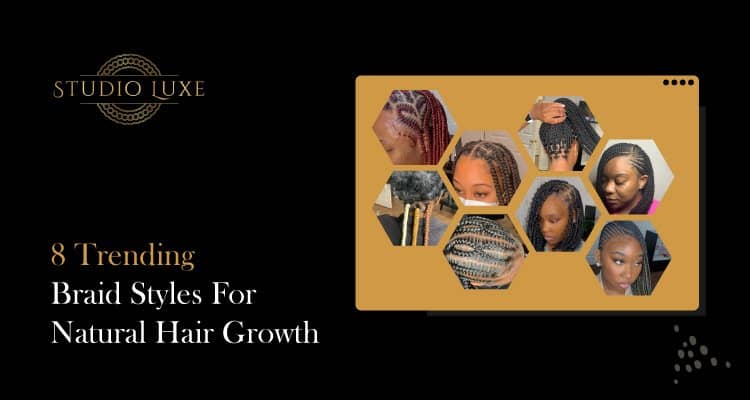 Black women are gifted with thick dense hair that can be sculpted into breathtaking hairstyles. However, the natural dryness and brittleness of kinky hair is the other side of the medal that needs special care.
If your hair is also breaking off faster than it grows, then you need some fresh takes for your tresses. By protecting your ends you might retain some of that precious length by preventing breakage.
We all have heard all about the powers of wearing a protective style. Whether you want to grow your hair length or prevent hair damage, protective hairstyles can help make all the difference in your hair's health.
But before checking on the best protective styles for your hair growth let's talk about how to pick the right braided style and how it protects your natural hair.
HOW TO CHOOSE YOUR BRAIDS?
When choosing the protective style for your hair, it is important to keep a few universal notes in mind. You will have to consider your hair type, hair length, and hair texture. Knowing your hair type, pinpointing your hair goals, and figuring out what you might be doing while wearing the style will help you choose the right protective style.
If you're styling with extension hair and going to be in and out of a pool, opt for braids that will conceal your natural hair securely within. When you braid your hair, it pulls out your natural curl with each braid. So, significantly with textured hair, once the braids get wet, your natural hair texture will shrink back up within the style.
The same concerns should be taken if you exercise. Braids are great for holding your natural hair in place when working up a sweat, but certain styles can also frizz up once your body temperature spikes.
HOW DO PROTECTIVE STYLES PROTECT NATURAL HAIR?
A protective style keeps your ends tucked away to protect them from aggressive damaging factors. A protective hairstyle protects natural hair from breakage and maintains moisture, retains length, and protects the edges from thinning. Whether it is summer or winter, protective styles are perfect for maintaining your hair while it is growing out for all seasons.
Below, we've rounded up trending protective styles that are quick, comfortable, and bring on hair regrowth and growth from inducement without strain and stress towards hair follicles.
#1. BOX BRAIDS
Box braids are one of the most popular protective hairstyles that you have probably seen on everyone. They are easy to maintain and are super versatile, all in all, you can't go wrong with stunning box braids.
Box braids are created by parting hair like a checkerboard and each square is braided downward. This style can be worn on almost any hair length and looks great with the addition of hair extensions to create long, thick braids.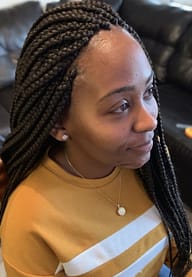 #2. KNOTLESS BRAIDS
Knotless braids are another protective hairstyle that offers you great style versatility without the fear of adding unnecessary stress to your scalp.
Knotless braids are created using a feed-in technique instead of creating a knot at the root that yields a flatter result that puts less strain on your roots. As there's less tension on the scalp, which can help minimize the risk of hair breakage.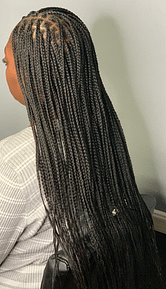 #3. CORNROWS
Cornrows are one of the most well-known braid styles that can be styled in many different ways. Cornrows are a style of hair braiding in which the hair is braided down onto your head with the hair twisting outward, flat in rows that are split perpendicular to the scalp.
#4. GODDESS BRAIDS
Goddess braids, which are also called Granny Braids, are a soft, more feminine version of traditional box braids. Goddess braids are a thicker version of cornrows.
They're bigger and raised higher, and are also braided closely to your scalp. They can be styled in so numerous ways for every occasion; you can go from the gym straight to work, then out to party, all while protecting your hair and looking super chic.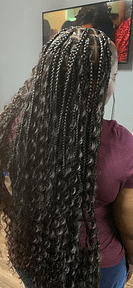 #5. LEMONADE BRAIDS
Lemonade braids are a braided hairstyle for black women characterized by lengthy side-swept cornrows and called after Beyonce's "Lemonade album," in which she wore her hair in a side cornrow style.
Lemonade braids are gorgeous and low-maintenance and can be created with natural or synthetic hair. It's a trendy protective style that you can rock all year round on every occasion.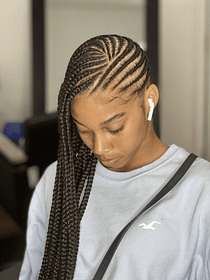 #6. STITCH BRAIDS
Another protective style is stitch braids that evolved from styles like Ghana Braids and Feed-in Cornrows. Stitch braids are achieved by using the stitch in the braiding technique.
In stitch braids, the hair is divided into thin or thick horizontal lines from the front to the back of the head. Stitch braids are ideal hairstyles for preserving length and hair growth.
#7. TRIBAL BRAIDS
Tribal braids, also known as Fulani braids, are a great protective styling option. These tribal African braids have a pattern where cornrows are braided from the back to the front with traditional front-to-back cornrows.
As Tribal Braids are a protective style, the braids protect your natural hair. It helps flourish and grow your hair without the normal breakage you would receive from daily styling.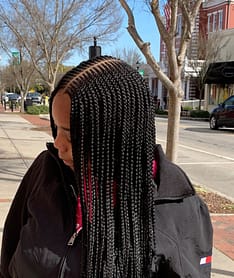 #8. TWISTED UPDO BRAIDS
A twisted updo has endless styling possibilities that look beautiful, feminine, and elegant. It comes in the top list of protective hairstyles for hair.
It is created by pulling back the twists into a high pony and swooping to one side.
A twisted updo makes your hair grow faster and also helps to comfort and nourish the hair follicles, promoting hair regrowth or growth.
GET YOUR CROWN
Now you know all the best protective styles for hair growth, and it's time to try them out! From the kinkiest coils to loose waves, Studio Luxe by La is a highly rated salon that helps figure out the best protective styles that work best for your hair.
Ready to get your protective style?
Book your appointment today