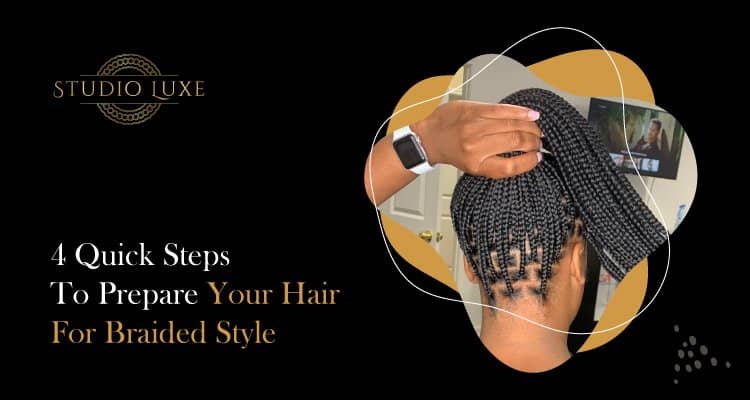 Braid extensions have been around since long ago and many women have used them over the years as protective styles to grow longer, stronger hair.
But it also can cause hair damage if not done correctly. Putting braids on weak hairs can lead to damage and breakage from style. It's important to make sure your hair is ready.
If length retention is one of your goals, practice and prep are key to getting the best possible results with hair braiding. It takes time and effort to create stunning protective hairstyles hence it is important to take good care before your salon session.
To avoid experiencing hair damage after wearing protective styles, scroll down and read on for helpful tips to ensure that you get the most out of the style.
4 easy steps to prep and protect your hair
Step 1: Cleanse
Never put braids on dirty hair. Whether you're going to a professional or doing it yourself at home, the first thing you should do before applying a protective style is to wash your hair.
Cleansing your scalp helps get rid of build-up that clogs your hair follicles and prevents hair fall and other hair problems.
Moreover choose your shampoo wisely, washing hair with shampoo that contains sulphate and other parabens can cause dryness and strip natural oils.
Choose a gentle, sulfate-free shampoo that is infused with oils that soften hair without weighing it down.
Step 2: Deep Condition
Another step to preparing your hair for a protective style is to use a deep conditioner. Conditioning the hair after cleansing keeps your length hydrated and moisturized.
Deep conditioning helps sustain your curls and softness of your hair and reduces dryness.
Deep conditioning is much more effective than just simple conditioning, it will not let your hair dry out for the period you have the braids in.
Choose a moisture-rich deep conditioner and apply and cover your hair with a plastic cap and let it sit for 20-30 minutes to add back the moisture.
Step 3: Moisturize
Moisturizing your hair is another must-do. Hair oil is a great way to intensely moisturize dry strands and is super effective in adding shine.
Hair Oil is packed full of naturally nourishing ingredients that sink in strands to repair them from the inside out. It makes sure that your hair retains moisture while it is in a protective style.
Oiling does not only retain the moisture but oiling the scalp soothes the skin too.
If you are having low porosity hair, go with moisturizers rich in emollients such as jojoba oil. If you are someone with high porosity hair, that absorbs water more when it is wet and loses more as it dries, you need rich moisturizing products and butter to seal in the moisture.
If you suffer from dandruff, you can mix in some Tea Tree oil that will reduce itchiness and dandruff. This will help you keep the braid tidy for longer since you won't be scratching your scalp afterward.
Step 4: Stretch
Last, but most certainly not least, before you have braids put in, it is important to detangle your hair.
Stretched hair makes fixing braids quicker and easier. In addition to this, it puts less stress on your hair and helps prevent breakage.
Gently comb your hair with a brush as it will smooth out each strand, allowing for easier styling and a smoother-looking finish.
CONCLUSION
Proper care and routine before styling your hair will help you to reach your hair goal faster. Follow these four easy-to-go steps and see your hair become stronger and gain more length by incorporating a protective style.
Lasharett Wilkerson is an award-winning Georgia-based hairstylist. Listed as one of the best hair stylists in 'Boro', she has been braiding hair for over a decade.
At Studio Luxe, we not only specialize in basic protective styles but offer numerous braiding styles – Box Braids, Jumbo Braids, braided updos, Braided ponytails, feed-in styles, layered feed-in styles, natural hair braids, crochets, knotless braids, kids' styles, braid removal, and braid refresh.
Book your appointment with Studio Luxe and get your healthier alternative for hair now.